ContiCrossContact LX 2 - 225/55R18 98V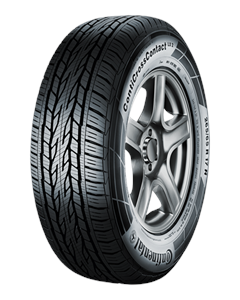 Excellent handling in the road and light off-road use
Excellent dry and wet braking performance with very good handling properties
High mileage and high level of driving comfort
Outstanding traction in light off-road use
Excellent dry and wet braking performance with very good handling properties
The tyre's pattern provides you with excellent handling and very good braking properties on dry road surfaces. It also gives you shorter braking distances on wet road surfaces, helping to keep you safe.
High mileage and high level of driving comfort
Reduced noise emissions guarantee a higher level of driving comfort. The tyre's contour distributes the pressure evenly, leading to high mileage.
Outstanding traction in light off-road use
The tyre's pattern creates outstanding traction in light off-road use.
Original Equipment
Fitted as original equipment on: Toyota Land Cruiser, Jeep Cherokee and VW Amarok
How we compare...
There are 7 reviews for ContiCrossContact LX 2
Overall rating
Very happy with these tyres. We've had loads of rain, and I drive the motorways a lot. I felt safer once they were on!
29/05/2020

FORD TRANSIT CUSTOM